Over the past few weeks while I was neglecting blogging over here I came up with the probably-unwise idea of trying to draw the shape of my life in hedonic terms.  I came up with this: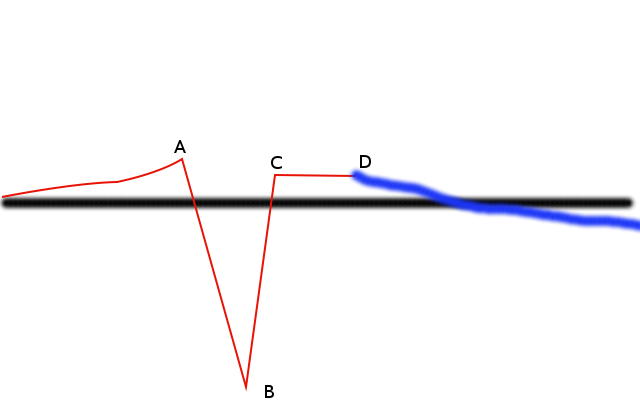 The fuzzy black line down the middle represents what for lack of a better term I would call a hedonic zero, and the red and blue lines represent my average tendencies at various part of my life. Above the line, life seemed worth it, and below it, not so much. I admit (with some shame) that it's hard for me to make the concept of a hedonic zero very precise (which is why it is a fuzzy) line, but I (and, I fear) many of my readers have a sense of what it's like to be below it.  It is the mental state one's in when one frequently wants out somehow.  It might take the form of thought of suicide but it might be less active than that.  It could be wishing one was dead (not the same as contemplating suicide, necessarily), or wishing that one had never been born.  It might just mean fantasies of escape and deliverance. And probably lots of palliation, like drinking way too much and way too often.
Up until about 23 or 24  (Point A) life actually did seem pretty good, and then both my romantic career hopes did a long crash and burn, (Point B). Eventually I rebuilt.  It was quite difficult and painful, but eventually life seemed sort of tolerable again by my early thirties (Point C) and has held steady more or less to the age I am now (Point D).  From the fuzzy blue line projecting forward, I'm not all that sanguine about the future. It possible that things will go better.  I'm not counting on it.  It's also possible that things will go much worse.  There are hideous miseries associated with late-life cancers, bereavement at the loss of loved ones.  Even at best, things will likely get worse.  My energy will diminish, as will my ability to learn things, as will my attractiveness (such as it is).  The presbyopia that began setting in at about the age of 40 will only get worse, even with good ophthamologic care, and in turn my ability to read comfortably — one of life's real consolations — will erode over time.
There might be a point of controversy in this illustration in that I put point B so low below A.  It's a very rough form of quantification, of course.  My best guess here is that I at a rough guess I'd be indifferent between a gamble of (0.9A or 0.1B) and a state of just barely finding life worth living.
A curious realization that attended this exercise is that, even if one rejects Benatar's Asymmetry, I should still conclude that it would have been better to have painlessly winked out of existence sometime around the age of 23 rather than for me to be alive now, at least if one accepts any aggregation over one's life as a measure of how well it has gone.  Many people would find this conclusion depressing, but I do not.  Sometimes I even find it a little liberating.
My point of presenting this result is not to wallow in self-pity.  Indeed, it is something the opposite of that.  I think that I have actually enjoyed unusual advantages in life.  My family was not rich but my parents were very committed to giving their children such advantages as they could. I had enough natural cleverness to scholarship my way through a truly expensive and "elite" education.  I have never been hungry, never had serious health problems, never gone to jail. Even at the end of my awful twenties I still had the resilience and resources to pull together and start over in a pretty good job.  By the standards that measure unearned privilege in the rich, peaceful society I inhabit, I am a winner: white, straight, and male.  (Well, okay, an atheist as well and that' not generally so well received in many circles, but it's easy to hide that and pass if that's what you want to do.)  I might still think that it would have been better to have perished at 23, but I come to this realization and still hold a conviction that many and perhaps most people have had worse lives than mine, not better ones.
If that's true, then my life is a kind of argument for antinatalism.